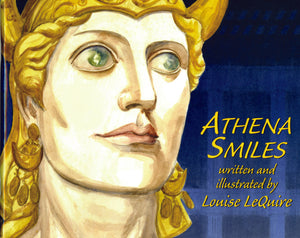 Athena Smiles
Written and Illustrated by Louise LeQuire
copyright 2005, Reprinted 2019
Ecolgues Press, Nashville TN
Paperback
Overview:
From 1980-1990 Alan LeQuire built the largest sculpture in the western world: a recreation of Athena Parthenos located inside Nashville's Parthenon at Centennial Park. During the 10-year project Alan's mother, Louise LeQuire, made many visits to the site with her grandchildren, who were very curious about the project. Being an educator and an artist, Louise soon saw the potential for a children's book. Athena Smiles was written and illustrated by Louise LeQuire for her grandchildren and for children who would visit the Nashville Parthenon in the years to come.
About the Author:
Lousie Lasseter LeQuire
(1924-2006) Nashville, TN
Louise obtained an M.A. in art education from George Peabody College at Vanderbilt University. In addition to being a well-known portrait and landscape artist, she taught studio art and art history at Montgomery Bell Academy (1967-1979) and worked as an artist and teacher at the Nashville Institute of the Arts (1980-1992). Following that position, she became the arts editor at Nashville Life Magazine. Her paintings can be found in collections of Vanderbilt University, Montgomery Bell Academy, and the Tennessee State Museum. She produced "Sunflower in a Hothouse," a documentary film about artist Red Grooms, which was nominated for an Academy Award in 1987, was scriptwriter for the documentary "Frederic Remington: The Truth of Other Days," in 1991, and co-produced "Lousie Dahl-Wolf: Painting with Light," in 2000.
Shipping will be calculated and invoiced separately. Please contact before purchasing for a shipping quote.